Danilo De Rossi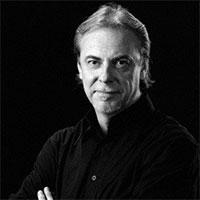 In 1979, Danilo De Rossi obtains his degree in architecture at the University of Venice. During the academic year 1985/86 he obtains a specialization in lighting engineering at the Polytechnic Institute of Milan. In 1983 he takes up the independent profession in Venice, where he lives and works, developing experience in design and furnishings, lighting and furnishing accessories, exhibiting at different design selections. During the same year, he begins his long co-operation with LEUCOS, dealing with design management and product industrialization and becomes Art Director in 1996.
Awards and Achievements:
1999 – 2nd place "Best Booth Presentation" – HOSPITALITY DESIGN- LAS VEGAS
2002 – 1st place " Best Booth Award" – LIGHTFAIR INTERNATIONAL - SAN FRANCISCO – CA
2003 – 1st place "Best of Category Award" for the lamp CLAIRE – LIGHTFAIR INTERNATIONAL
2003-2004 - GOOD DESIGN Award for the lamp "GLO" and for the lamp "FLEXA"– The Chicago Athenaeum of Architecture & Design.
2005-2008-2009 - BEST BOOTH Award – Hospitality Design Trade Show – Las Vegas
2011 - Good Design Award withEghoor-01 and Colage lamps, The Chicago Athenaeum of Architecture & Design.