Diego Chilò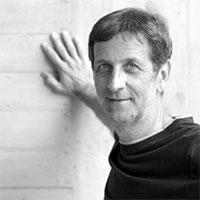 Since 1984 Chile Diego architect and designer began to pursue the professional field of architecture and industrial design drawing and working for national and international companies, such as Andromeda, Arcom, Arflex, Altek, Cattelan Italia, Mareco Luce, Disegnoluce, Malobbia International, Ono luce , Prandina, Sirrah, Studio Line.
In 1985 he began a course of study with Fiorenzo Valbonesi both in the construction and in design field.
Since 1997 he began a close collaboration with Tobia Scarpa in the field of architecture and later also in industrial design.
Since 2006 he collaborates with the Industrial Design college in Florence.
In 2006 he was reported by the jury of the "Premio Internazionale Daedalus Minosse of architecture."
In 2007 in Milan is reported the design of his lamp during "Innovatoin and Design Award 2007".
In 2013 he wins the "Good Design Award Lighting" at the Chicago Athenaeum with its lamp "Acqualuce".