Patrick Norguet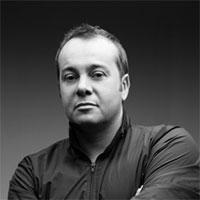 Born in Tours (France) in 1696, Patrick Norguet starts shortly to define his personal universe beyond the design marked paths. Anyway thanks to the studies at the Ecole Superieure du Design he drop down its professional basements. In 1999 meets Giulio Capellini. In 2000, during the Salone del Mobile in Milan, the co-operation with Cappellini is officially presented and will start a long and rich period with the famous Italian brand.
On the same year, he meets Artifort starting to work at Apollo armchair, realized in 2002. This item starts a long co-operation with the Dutch producer.
His instaiable thirst curiosity for matters that loves to match granting him different inspirations, convince him to open his own design studio, in Paris (1999). So he starts to work over many aspects of the design: from the manufacturing product to the furniture trough the pure architecture.
Today Patrick Norguet co-operates with important companies such Cappellini, Artifort, Lapalma, Group Ester/Frighetto, Flaminia, Fasem, Max Design, Modus, Thonnet-Vienna.
He realizes projects for Lancel "champs élysées", Renault, Hotel Accor, Van Cleef&Arpels and Petit Bateau. In 2005 is appointed as "Designer of the year" during the Now show at Maison et Objet in Paris and he wins the "Grand Prix du Design" in Paris.
Patrick Norguet deisng gets also important spaces into permanent museums such MOMA (New York) and Centre Pompidou (Paris).
Anyway his ecleticism shows mainly an approach that he judges as rational.
His job is mainly the result of a dialogue from which the project rise up.