The gilded alcove, it is said, was in ancient times the place chosen by the sheikh as a space of loving intimacy, adorned with precious oriental silks and painted in gold.
The Alcova outdoor daybed was designed as a hybrid and covered space but communicating with the external environment and nature.
An aluminium structure painted in graphite grey, robust and comfortable, to which modular teak panels and curtains can be added at will, according to your tastes and needs, accessories that repair without obscuring.
If we add to this the large and soft cushions, welcoming and ergonomic, here is the completion of a unique dimension in which space and time beat at your own pace.
Alcova is a daybed suitable for outdoor use.
The structure is almost cubic.
It measures cm. 200 x 210 x h. 200, is entirely made of aluminium, solid and resistant to atmospheric agents and composed of mattress nets, 2 independent mattresses with reclining backrests, 4 columns and a filtering ceiling, ideal for creating a cool twilight without stopping air circulation.
The aluminium structure is available in two colours:
Ground fixing plates are included.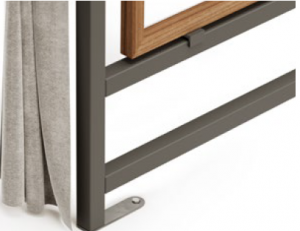 Ground fixing is not mandatory.
The two comfortable mattresses are padded and covered with the best materials (Sunbrella and Tempotest, depending on the colour chosen).
As an option, it is possible to cover the mattresses with alternative fabrics, including the fabrics supplied by the customer, to meet all needs.
The colours available for the fabric covers are visible on the catalogue shown on this same page.
The price refers to the coverings in cat. A.
It is possible to equip the Alcova daybeds with curtain modules (maximum 8 for each daybed) and with teak panel modules (maximum 6 for each daybed).
Two curtain modules are needed to be able to completely close each side of the daybed.
One or two teak panels can be installed on each side of the daybed.
The recommended configuration is a daybed with 4 curtains and 2 teak panels.
The Alcova outdoor daybed weighs about 90 kg.
The seat height is 47 cm.
For any doubt, for more information and to better customize your Alcova outdoor daybed, contact us by phone at no. 3477960415 or by e-mail at info@italydreamdesign.com
It will be a pleasure for us to answer all your questions.