Alcova has been designed as a hybrid and covered space, but communicating with the external environment and nature.
A robust and comfortable aluminium structure, a modular panel system in teak that provides shelter without shading, and a welcoming and ergonomic cushioning where you can find a unique dimension in which space and time beat according to your rhythms.
Alcova is a lounge with an incorporated gazebo suitable for outdoor use.
The structure is almost cubic.
It measures cm. 240 x 210 x h. 200, it is entirely made of aluminium, solid and resistant to weathering, and consists of a structure with 4 columns and a filtering ceiling, ideal for creating a cool shade without stopping the circulation of air, and two benches.
The two benches, measuring cm. 210 x 60 and 170 x 60, are fixed to the structure and form an L-shaped lounge seating area.
The height of the benches is 45 cm.
The aluminium structure is available in two colours:
Ground fixing plates are included: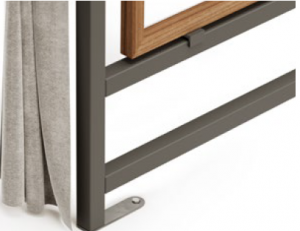 Ground fixing is not mandatory.
The two benches are padded and covered with the best materials (Sunbrella and Tempotest, depending on the chosen colour).
As an option, it is possible to cover the benches with alternative fabrics, including fabrics provided by the customer, to meet all needs.
The available colours for fabric coverings can be seen in the catalogue on this same page.
The price refers to category A coverings.
It is possible to equip the outdoor lounge with tent modules (maximum 8 for each structure) and with teak panel modules (maximum 6 for each structure).
Two tent modules are required to completely close each side of the gazebo.
One or two teak panels can be installed on each side of the gazebo.
The displayed price includes:
structure with 4 columns and filtering roof
two benches fixed to the structure, padded and covered in category A fabric
ground fixing plates
2 tent modules in category A fabric
4 teak panels
the round table, cm. 90 x h. 40, white aluminum structure, white high-pressure laminate (HPL) top, weighing 34.5 kg
The displayed price does not include:
decorative cushions
armchairs, tables, carpets and other accessories eventually visible in some photos
The outdoor lounge Alcova weighs about 90 kg.
For any doubt, for more information, and to better customize your outdoor lounge with gazebo Alcova, contact us by phone at +393477960415 or by email at info@italydreamdesign.com
It will be a pleasure for us to answer all your questions.