Batik is the perfect example of a piece completed while paying attention to every small detail. It is a leather bed characterized by a modern style which has been created to become the protagonist of an elegant and refined bedroom.
The structure of this bed is in wood and plywood. While designed for lovers of the tall and imposing head, the headboard is made of a single wood panel covered in leather.
The padding of the headboard and of the entire base is made of polyurethane coated in flap.
The back of the headboard is finished in fabric.
This piece of furniture allows for the possibility of creating different two-tone combinations as follows: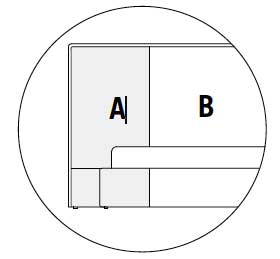 The final results of this bed are very unique and original due to the personalisation made possible through the vast choice of leather colors and quality. 
This model for instance, features a central part of the bed covered in Burt F613 leather while the two side parts are covered in Burt H613 leather with a diamond embossed finish.
In addition, the sartorial decoration refines and enriches the bed at the side ends thanks to a leather piping profile.
In order to ensure optimal rest and maximum comfort, this bed is made of wooden slats of the highest quality.
The base can also be equipped with a double-movement container consisting of a useful 18 cm deep space, upon request. 

The dimensions of the bed are 259 x 228 x h. 124cm. 
Headboard height 124 cm.
Base height 32 cm.
Wooden feet height 4 cm.
The bed weighs a total of 122 kg.
This piece is available in all standard sizes.
European mattress sizes from:
80 × 200
160 × 200
180 × 200
190 × 200
200 × 200
American mattress sizes from:
140 × 193
155 × 205
195 × 205
185 × 215
The mattress is not included in the price.
The Batik bed is a great representative of the luxurious feature evoked by the fully 'Made in Italy' design.
Please feel free to contact us by email at info@italydreamdesign.com or call us at +393477960415 for any further customisations.
While ordering, we can send you some leather samples to allow you to check with certainty the quality and color of your choice.