Crossover owes its name and originality to the leather bends that cross horizontally and vertically on the headboard and the structure, both entirely covered in leather.
A precious natural material is in order to create welcoming and warm shapes and volumes.
Italian craftsmanship and modern and refined design. A product to furnish the bedrooms of the most refined and luxurious houses.
The bed has a hardwood frame.
The headboard and the base are in polyurethane covered with wadding.
The bed can be realized in several sizes.
Here we are proposing you the cm. W 238 x D 242 x H 108 version, suitable for a cm. 195 x 205 mattress.
On demand, we can realize it in all the European or American standard sizes:
80 x 200
160 x 200
180 x 200
190 x 200
200 x 200
140 x 193
155 x 205
195 x 205
185 x 215
The mattress is not included
The headboard height is 108 cm.
The base height is 31 cm.
The wood legs height is 4 cm.
On request, it is possible to have the bed in a version with double movement storage base, with a surcharge. All the space under the wooden slats becomes so available to add a room to your needs. The useful space has a height of cm. 18.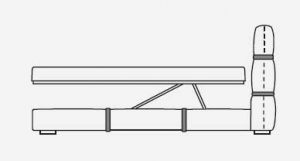 The headboard back is finished with fabric.
The mattress rests on wooden slats.
The base is equipped with a special metal support that allows you to raise or lower the slats in different positions, from 2 to 18 cm. from the edge of the bed base.
This mechanism is obviously not available in the case of the base equipped with the movement storage base.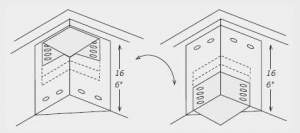 The available qualities and colours of the covering leather are numerous.
Please see the available materials and colours box on this page.
About frame covering and bends choice, it is possible to choose two types of leather with contrasting colours, as on the pictures here shown, or dyed on colour, according to your needs.
In the case of an order, we are available to send you some leather samples to verify with certainty the desired shade.
We are at your beck and call for any needs concerning doubts or customizations. Please e-mail us at info@italydreamdesign.com or call us at +393477960415.
Browse our inspiration catalogue to see all the beds available