The concept of the Escape sofa was a result of a specific research on irregularity.
It is entirely handcrafted in Italy and showcases a very unique suspended seat design. 
The sofa offers maximum comfort due to its composition from a frame covered in feathers and cotton flap.
The exterior of this piece features a very modern, young and fun design.  The external leather finish can be customised upon desire, starting from a single color, up to the selection of new and also very imaginative combinations.
An extra touch of glamor is added by the original and precious details, such as the special stitching that edges the large perimeter borders. In addition, the decorations with buttons for Montgomery style frogs make it extra special.
The stitches can be made to match the color of the upholstery or to provide some sort of contrast.
The structure is in wood and plywood while the springing of the seat is guaranteed by the presence of elastic straps.
The feet of the sofa are made in metal of 19 cm height. They are available with the following finishes: chrome, black-titanium chrome, brushed aluminum, copper or painted metal.
The seat and back cushions are made of polyurethane and are completely covered in flap.
This piece of furniture is entirely customizable to anyone's likings due to its modular character, which offers the possibility of making it both single-color as well as in any combination to best suit your needs.
There are up to six colors available for the coating. Please refer to the diagram below: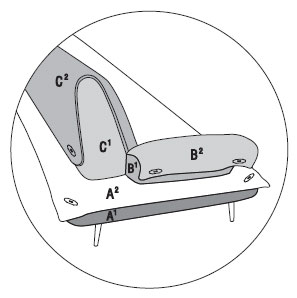 The dimensions of this linear sofa are 240 x 105 x h. 85 cm.
The seat depth is 65 cm, while the seat height is 42 cm.
The width and height of the arm are respectively 38 cm and 56 cm.
The weight of the sofa is 91 kg.
The model shown in the photo is characterized by the finishing of the CUC 510 B Special seams and by the Piuma E525 and Deluxe Sauvage J727 leather coverings.
Please feel free to contact us by email at info@italydreamdesign.com or call us at +393477960415 for any further customisations.
While ordering, we can send you some leather samples to allow you to check with certainty the quality and color of your choice.