Evelyn is a leather armchair with a vintage look revisited in a contemporary way. Thanks to its chic and elegant appearance it adapts perfectly both to the home environment as well as to your office space.
The base comes in painted metal with an ergonomic shell and features a slightly inclined appearance. The frame on the other hand, is completely covered in leather and it offers you the chance to choose the finish that best suits your environment.
The armrest is thin and covered in leather.
The seat suspension is secured by elastic straps.
The padding of the seat and back is made of polyurethane coated with a flap.
The dimensions of the armchair are 75 x 78 x h. 77 cm.
The dimensions of the seat are as follows: height 43 cm, depth 56 cm and width 65 cm.
The model is characterized by an anthracite metal base and the Portos col.82 fabric, harmoniously mixed with the Maori H686 leather and the CUC 503 stitching.
You can also choose to customize your armchair by choosing different colours and materials according to your personal taste and create a unique piece to your likings. 
There are many leather samples you can choose from, all available on this page in the "available materials and colours" box. You can combine up to 3 different types and colours of leather for the final layer of the chair. The first one can be used on the seat and backrest. The second one can be used for the edges and the back of the seat as well as the backrest. While the last one can be used for the covering of the frame which also acts as an armrest.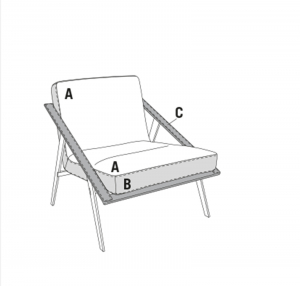 The base of the Evelyn leather armchair allows for customization. Upon request, it can be made in  black-titanium chrome, brushed aluminum and brushed copper.
Please feel free to contact us by email at info@italydreamdesign.com or call us at +393477960415 for any further customisations.
While ordering, we can send you some leather samples to allow you to check with certainty the quality and color of your choice.