The Scarlett piece is a chaise longue in leather characterized by a wide and generous curvilinear shape. It offers maximal comfort and relaxation thanks to the absence of armrests which make it look as if it is always hospitable.
The structure of this chaise lounge is made of steel and is padded with molded polyurethane, covered with a feather mattress and then the final touch: a layer in leather.
The external shell is in composite thermoplastic polymer, obtained from a mold, finally covered in leather.
The piping is used to define the edges with character and can be customized like the rest of this splendid handcrafted item.
The uniqueness of this piece comes through the detailing, particularly its base, designed in a special manner with crossed lines. 
The feet of this chair are in metal and can be ordered in various finishes upon request. These include:
chrome

chrome-black titanium

brushed aluminum

brushed copper (as in the photos)

painted metal
The size of the chaise longue is 82 x 98 x h. 91 cm.
The depth of the seat is 58 cm.
The seat height is 42 cm.
You have the opportunity to choose up to three different leather qualities and colours to create the perfect chaise longue for every environment:
A – for the outer shell
B – for the seat
C – for the piping
Scarlett chaise longue – choice of the combination of 3 colours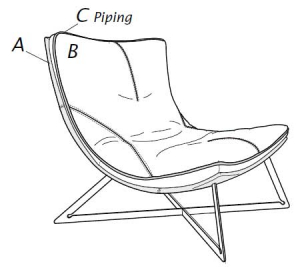 The model presented in the photo is characterized by a shell  (A) in Nabuk J278 leather with a "diamond embossed" relief; the back cushion and seat in (B) Nabuk H692 leather, while the piping (C) is in Nabuk H278.
All available leather options are visible in the "available materials and colours" box on this page.
You can also customise the stitches by choosing a wide selection of colours.
In addition, you can choose to complete this chaise lounge with the matching footrest and headrest.
Please feel free to contact us by email at info@italydreamdesign.com or call us at +393477960415 for any further customisations.
While ordering, we can send you some leather samples to allow you to check with certainty the quality and colour of your choice.