Tulip is a modern leather armchair characterised by a unique style. It is equipped with an enveloping and elastic seat which makes it possible for the guest to achieve absolute comfort, especially thanks to the presence of a lumbar cushion.
The structure is made of wood and plywood.
The springing of the seat is achieved due to the presence of high-quality elastic belts.
The padding of the seat is made of polyurethane-coated in flap.
The shell is also made of polyurethane-coated in flap.
The armchair is equipped with a comfortable down-leaning backrest in order to guarantee a seat in which comfort prevails.
The Tulip chair is embellished with a profile outlined by grosgrain stitching. On this note, any customer has the option to customise the stitches according to their own personal needs and likings.
The dimensions of the armchair are 86 x 85 x h. 79 cm.
The depth of the seat is 54 cm
The height of the seat is 42 cm.
The legs are made of wood and have a height of 3.5 cm.
There are a large number of leather qualities and colour tones available for this piece.  You can see them in the "available materials and colours" box on this same page.
A maximum of three colours can be used (A for the main coating, B for the lumbar cushion, C for piping):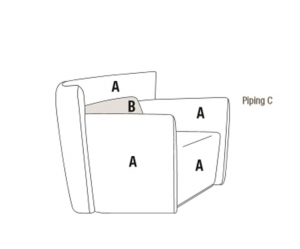 The Tulip armchair proposed here is made with Burt F613 leather and Club C119 leather piping.
This piece is also available in a version with a swivel base.
In this case, the base can be realised in:
Chrome

Satin chrome

Black painted metal.
Please feel free to contact us by email at info@italydreamdesign.com or call us at +393477960415 for any further customisations.
While ordering, we can send you some leather samples to allow you to check with certainty the quality and colour of your choice.