Charlotte is a customisable leather armchair defined by modern and curvy lines. What distinguishes this armchair from the rest is class and refinement. These two details create an enveloping design in which the seat has been specifically intended to embrace the guest and provide moments of pure relaxation.
Charlotte is characterised by a wooden and plywood structure. The seat is guaranteed by the presence of high-quality elastic straps.
The padding of the seat is made of polyurethane-coated in flap.
The shell is made of polyurethane-coated in flap.
The original cords that elegantly adorn the back are exclusively available in leather.

The dimensions of this armchair are 88 x 82 x h. 68 cm.
The depth of the seat is 53 cm.
The width of the piece measures 56 cm.
The height of the seat is 39 cm.
The large chrome legs are 3 cm high.
The chair weighs a total of 45 kg.
It is important to note that this armchair can also be realised by combining different colours.
There are a large number of leather qualities and colour tones available for this piece. You can see them in the "available materials and colours" box on this same page.
This armchair is made of Burt F614 leather combined with Cocò col.15 fabric and CUC 508 stitching.
You can choose up to 2 different coatings: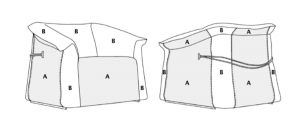 This armchair allows you to cover it whether entirely in leather or fabric.
In addition, the piece is also available in a swivel version upon request.
Please feel free to contact us by email at info@italydreamdesign.com or call us at +393477960415 for any further customisations.
While ordering, we can send you some leather samples to allow you to check with certainty the quality and colour of your choice.