The Crossover sofa is designed by Giuseppe Viganò and is part of a collection of luxurious items designed to furnish the most refined living rooms with style and elegance.
The collection includes sofas, armchairs and footrests, in different sizes and with a vast assortment of leathers available for the refined covering.
The Crossover sofa has leather belts that cross the whole structure horizontally and vertically, on the front, on the back and on the armrests.
The contrast of colours creates new volumes, distinct and well proportioned. The overall result immediately gives the idea of ​​softness and hospitality guaranteed by the exceptional materials used for the padding and the covering.
The asymmetrical leather sofa proposed here measures cm. 262 x 102/143 x h. 82.
Of course, the sofa can be made with the long armrest on the left and the short armrest on the right or vice versa.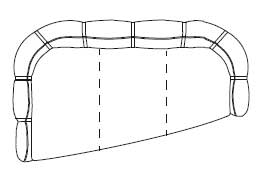 The structure is in wood and plywood, the seat suspension is guaranteed by high-quality elastic straps.
The minimum depth of the seat is 64 cm. The seat height is 44 cm.
The width of the arm is 21 cm.
The height of the feet is 13 cm. They are available in steel, black-titanium chrome or painted metal.
The seat cushions are made of polyurethane with a feather mattress for maximum comfort.
The back cushions are in polyurethane and covered with wadding.
All the leathers available for the covering are shown in the virtual samples palette published on this page.
The model shown in the photos is covered with Piuma E537 leather and Vintage H690 leather belts.
All the qualities and colours of leather from the collection are available to personalize your sofa.
The belts are made exclusively in "Vintage" category leather.
Even the colour of the seams can be customized according to the tastes and needs of each one.
The combinations of shapes and colours are innumerable.
We invite you to contact us directly to create the sofa of your dreams.
You can call us at no. +393477960415 or email us at info@italydreamdesign.com
We are also available to send leather samples to let you check the quality of the material and the shades of the chosen colour.
Our architect is available to help you choose the right sizes and colours for your decor.
Among the available photos, you can consult a technical sheet with all the modules that we can make.
The decorative cushions, the round tables, the armchair and the magazine-carrying accessory in the form of a bag visible in the photos are not included in the price but are of course available as an option. Also for these options, different sizes and colours are available.